Rilwan Lawal Next Fight, Boxing Record
1 min read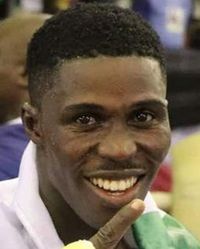 Rilwan Lawal photo
Rilwan Lawal who also known as "Real Show Boy" is a professional boxer from Lagos, Nigeria with a boxing record of 10 win(s) 0 loss and 0 draw(s).
He was born on August 10, 1992 with the birth name Riliwan Owolabi Lawal.
He began fighting on year 2017 at age 25.
He is 5′ 3″ or 160cm tall. Fighting at Featherweight division.
His last fight was on October 19, 2020 against Friday Fatunji Felix who has 13-8-0 record that time The boxing fight happened at National Stadium, Surulere, Brai Ayonote Boxing Gymnasium, Lagos.

Rilwan Lawal WON the match by Technical Knockout.
Note: this boxing profile was last updated on January 26, 2021. If you find mistake in this profile, please help by contacting us.