Rilliwan Ayodele Babatunde Boxing Record, Next Fight
1 min read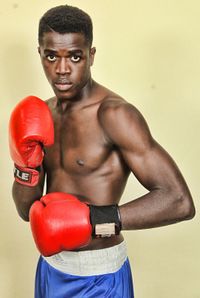 Rilliwan Ayodele Babatunde photo
Rilliwan Ayodele Babatunde who also known as "Babyface" is a professional boxer from Nigeria with a boxing record of 12 win(s) 0 loss and 0 draw(s).
Born on May 4, 1996.
He started fighting on year 2016 at age 20.
He stands 5′ 9½″ or 177cm tall. Fighting at Welterweight division.
His last fight was November 27, 2020 against Jubril Olalekan who has 0-1-0 boxing record at that time. The boxing fight took place at Rowe Park, Lagos.

Rilliwan Ayodele Babatunde WON the match by Knockout.
Note: this boxing profile was last updated on January 22, 2021. If you find mistake in this profile, please help by contacting us.